From bike rentals to bocce ball, guided tours to summer fitness, the start of spring and summer means a whole new roster of seasonal activities, from active to relaxing, and everything in between. Whether you choose to spend your days on land or lake, visit the Welcome Centre or book online to secure a spot for you and your family.
LAND activities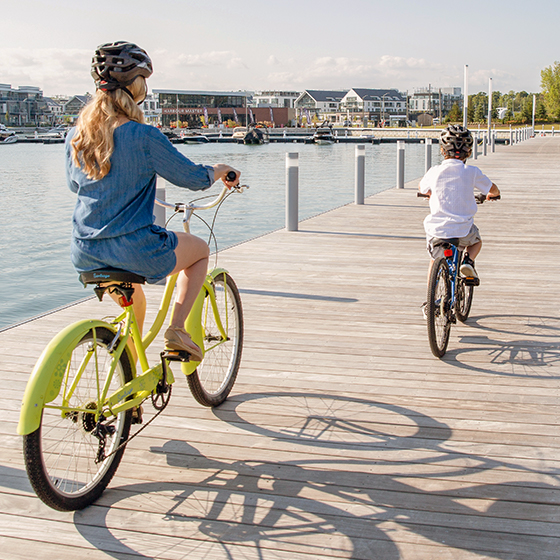 Bike Rentals

Tour the Resort or hit the trails through the Nature Preserve. We have an assortment of bikes that enable you to take in the beauty of Friday Harbour at whatever pace you desire.

Badminton

Grab a few rackets from the Rec Team and get a group together for a fun game in the sun.

Guided Tours

Whether it's discovering a new route through the Nature Preserve or sightseeing on Lake Simcoe, our experienced team of guides will fill your day with adventure.

Soccer

Head down to the beach for a pick-up game or grab a few friends and practice your penalty kicks.

Yoga

Exclusive to Homeowners.
Wind down as our instructor guides you through poses and meditations, ensuring your class is a relaxing one.

Fitness

Schedule a session with a highly qualified personal trainer or take part in one of our group fitness classes to get you out of the gym and into the sun!

Volleyball

Whether you're new to the sport or just want to practice your serve, we have multiple courts available on our beautiful sandy Beach.

Tennis

Exclusive to Homeowners
Whether it's a game of singles or doubles, reserve a court for you and your partners and head out for a game of friendly competition.

Basketball

Take in the views overlooking the water as you shoot some hoops with friends, or work on your slam dunk.

Scavenger Hunt

Come join in our Friday Harbour crafted scavenger hunts all around the Resort!
Water activities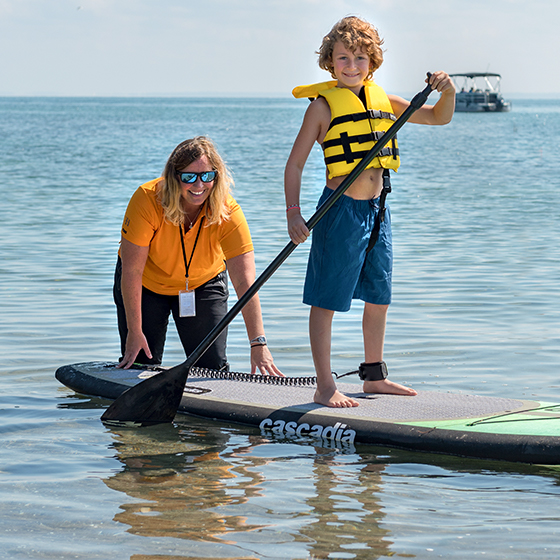 Guided Tours

Sightsee on Lake Simcoe as our experienced Team of guides fills your day with adventure.

Canoeing

Grab a couple friends and enjoy the lake in a new way with this classic Canadian pass time.

Fitness

Get fit while you float with SUP Fitness and Yoga classes.

Kayaking

Whether it's a relaxing morning paddle or a group outing on the lake, grab a single or double kayak for a relaxing afternoon on the water.

Stand Up Paddleboarding

Hit the lake for a surprisingly good workout while taking in the beauty of Lake Simcoe.

Boat Rentals

Our Marina has a variety of boats in their fleet. Whether you feel like cruising the lake or are in the mood to fish, we have a boat to suit your needs.

Wakeboarding

If you're looking to learn a new and exciting sport, head out with a instructor on your boat or a Pride rental. They will have you jumping the wake in no time.

personal watercraft

Jet around on the lake with one of our motorized personal watercraft and explore everything Lake Simcoe has to offer.

ACTIVITY RENTALS
All equipment for outdoor activities is available for rent from the Beach Hut.
CRUISERS AND
MOUNTAIN BIKES
Full day
(10:00am - 6:00pm)
$60
ROAD BIKES
Full day
(10:00am - 6:00pm)
$60
HELMETS
$5
KIDS BIKES(Ages 12 and under)
Full day
(10:00am - 6:00pm)
$40
CANOES,KAYAKS,
DOUBLE KAYAKS,
STAND UP PADDLEBOARDS
Full day
(10:00am - 6:00pm)
$60