From skating on our outdoor rink to snowshoeing through the Nature Preserve, there are an abundance of seasonal activities to make the most of winter's beauty at Friday Harbour. Bundle up and enjoy the gorgeous snow-covered Canadian landscapes that surround the Resort.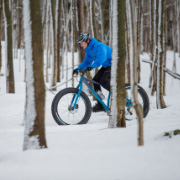 FAT BIKING*
Roll into the cooler season on a fat bike fitted with extra thick tires, perfect for touring the trails and the Resort!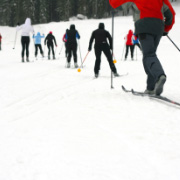 GUIDED EXCURSIONS
Let our guides lead you around the Resort as you explore under clear skies or by the light of the moon.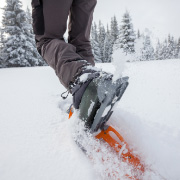 SNOWSHOEING
Strap on your snowshoes and head out for a unique exploration of Friday Harbour's beauty.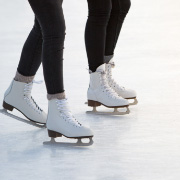 SKATING*
Kick off the weekend on our outdoor rink where you can practice your moves or enjoy some leisurely laps with the family.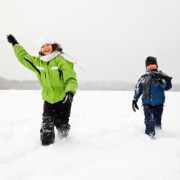 FUN FOR ALL AGES
From exciting games to scavenger hunts, there are plenty of activities for kids and families this season!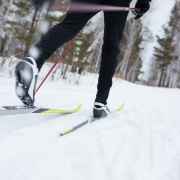 CROSS COUNTRY SKIING
Hit the trails with family and friends, and get active while you enjoy beautiful winter landscapes.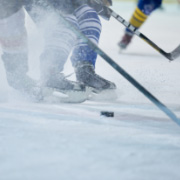 HOCKEY*
Get a crew together for some all ages shinny. All equipment, including pucks and sticks, is available on site!
SKATING RINK
Our Rink is now closed for the season. See you next season!
HOURS
Closed for the Season
Activity Rentals
Prices shown are for two hour rental periods. All equipment must be returned by 5:00pm. The last time to sign out a rental is 3:00pm.
LOCATION
The Outdoor Adventure Centre
on the Beach
HOURS

MONDAY – TUESDAY
CLOSED


WEDNESDAY – SUNDAY
10:00am – 6:00pm


Skis
(Ski packages include poles)
CHILD SKI PACKAGES $15
ADULT SKI PACKAGES $20
POLES $5
Skates
(Skate packages include helmets)
CHILD SKATE PACKAGES $15
ADULT SKATE PACKAGES $20
HELMET $5
BIKES

FAT BIKES$25
(Fat bikes are only available in adult sizes)
HELMET $5
*All skaters and cyclists must wear helmets. All activity equipment rentals are first-come-first-served.
Prices are subject to change and to taxes and a Resort Fee. All activities are weather permitting. When applicable, participants are required to sign a waiver prior to partaking in an activity. All child skaters must be accompanied by a person aged 16 or over.
Winter Recreation Policies