From bike rides to Beach volleyball, early morning swims to afternoon paddles, the start of summer means a whole new roster of seasonal activities, from active to relaxing, and everything in between. Whether you choose to spend your days on land or lake, visit the Outdoor Adventure Centre on the Beach to check availability for you and your family.
LAND activities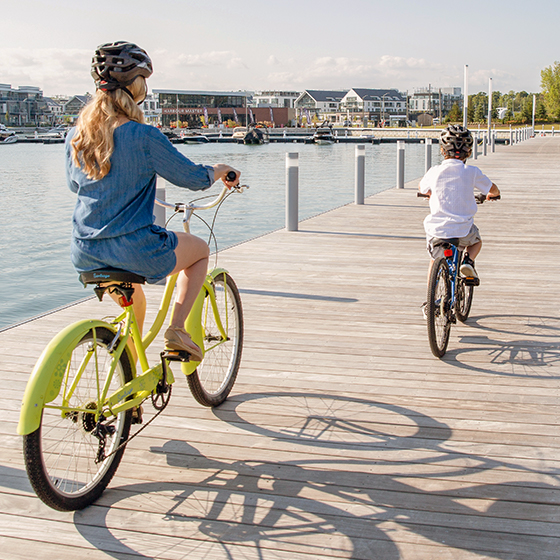 LAWN GAMES

From Spikeball and Beach Bowling to a super-sized Jenga, you're in for some big-time fun.

FAMILY ACTIVITIES

Show your competitive side and take part in fun and exciting family games with the FH Rec Team!

Bike Rentals

Tour the Resort or hit the trails through the Nature Preserve. We have an assortment of bikes that enable you to take in the beauty of Friday Harbour at whatever pace you desire.

Badminton

Grab a few racquets from the Rec Team and get a group together for a fun game in the sun.

Soccer

Head down to the beach for a pick-up game or grab a few friends and practice your penalty kicks.

Wellness

Take part in one of our outdoor group classes to take care of your mind and body!
All activities that take place within FH Fit are Exclusive to Homeowners.

Volleyball

Whether you're new to the sport or just want to practice your serve, we have multiple courts available on our beautiful sandy Beach.

Basketball

Take in the views overlooking the water as you shoot some hoops with friends, or work on your slam dunk.
Homeowner only times are 9am-11am and 5pm-7pm daily

VIEW SCHEDULE

KIDS ACTIVITIES

From scavenger hunts around the Resort to fun crafts, games, and more. Kids will never be bored at Friday Harbour.
Water activities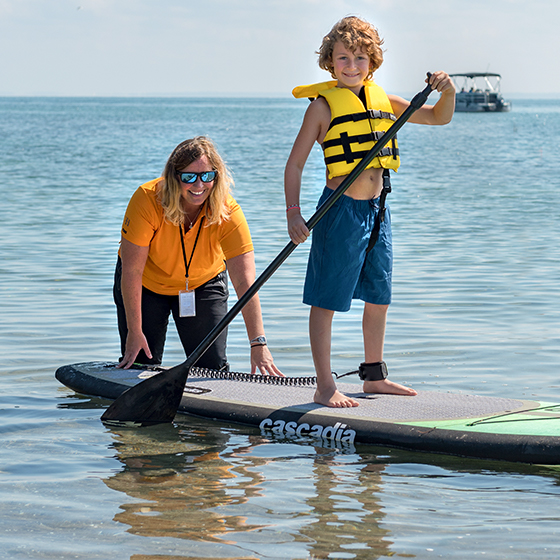 Canoeing

Grab a couple friends and enjoy the lake in a new way with this classic Canadian past time.

Kayaking

Whether it's a relaxing morning paddle or a group outing on the lake, grab a single or double kayak for a relaxing afternoon on the water.

Stand Up Paddleboarding

Hit the lake for a surprisingly good workout while taking in the beauty of Lake Simcoe.

SUMMER RECREATION RENTALS
All equipment for outdoor activities is available for rent from the Outdoor Adventure Centre on a first-come-first-served basis and is weather dependent.
LOCATION
The Outdoor Adventure Centre on the Beach
HOURS
WEDNESDAY – SUNDAY
10:00am – 6:00pm


ADVENTURE SEASON PASS
Adventure awaits with our Season Pass! With this pass, you can save all summer long and enjoy unlimited use of watercraft rentals, lawn games, the volleyball court, basketball court, and more.* Don't miss out on the chance to experience all the fun and excitement Friday Harbour has to offer. Book before April 10th and save 20% using code EARLYBIRDPASS at checkout.
BUY HERE
*Some exclusions apply.
TWO HOUR RENTALS
CANOES
CANOE (FITS TWO PEOPLE)
$35
OTHER RENTALS
For boat and PWC rental inquiries, please visit the Marina Page and inquire with one of our Marina Retail Partners.
MORE INFO
WATERCRAFT STORAGE RENTALS
Summer is here and now is the time to secure storage for your non-motorized watercraft. No longer worry about getting your kayak, canoe or stand up paddleboard to the Beach at FH every weekend, store it right on the Beach for the summer! Complete the form below and choose the price tier that suits your storage needs.